ITALIAN EXCELLENCE IN AUTOMATION
Top-quality of high-performance valves & actuators

OMAL S.p.A. is an Italian manufacturer of both valves (Ball & Butterfly Valves) and actuators (Pneumatic & Electric) which makes OMAL specialized in top performance actuated package since its establishment in 1981.
OMAL does not depend on any actuator supplier like other vendors: it means its own valves are designed to have a perfect matching and sizing with its actuator and it has total control on quality and delivery of both. Moreover no blame game between actuator- and valve-makers as end users have experienced many times when there are any questions raised at site: OMAL is wholly responsible for the assembly.
The corporate philosophy is EMPOWERED PERFORMANCE, namely anything delivered to the market must be more than any expectation of their own client or standard used in the industry.
OMAL's Products portfolio is wide and diversified and the result of long experience and high excellence in diversified markets.
OMAL produce BALL VALVES in different designs and materials but all are suitable for high-cycles and high reliability. The quality of our ball valves is not only confirmed by international certification (API 6D or AD2000) and a long reference list but also by special qualification as for PROCHEMIE suitable to operate over 60.000 cycles with no visible leakage from the stem packing.
OMAL also manufactures EN593 Butterfly Valves (concentric type, rubber-lined), either Wafer or Lug, with interchangeable liners in different materials (EPDM, NBR, FKM, PTFE, NBR CARBOX, etc).
All the above valves deliver their best performance matched with actuators that outstand in the market to have Scotch Yoke system: actuators result in being smaller, lighter and less-demanding of air-consumption and outstanding in terms of life time and reliability (over 1MIL cycles).
Available in a very diversified and wide range of temperature, different materials, with handwheel or in 3-position execution (for dosing service).
Furthermore, OMAL's Rack & Pinion actuator was recently launched: the brand new RACKON actuator.
Completing the range of actuators, there is also an electric one (from 24v to 230v) either in ON-OFF for isolation valves or MODULATING for control valves.
Last, but not least, OMAL offers pneumatic valves for the process industry: VIP valves patented by OMAL since 90s and yet a tangible example of innovation able to stand out as extremely compact, highly reliable (over 500.000 cycles) and very fast. The evolution of the VIP valve is the brand new VIP EVO valve, which reaches up to PN40 / 580 psi.
In addition to VIP, ANGLE-SEAT VALVES (in bronze or SS) with different ends for application up to 180°C and suitable for millions cycles and maintenance free.
OMAL serves different sectors either by commodity products ready on shelf according to internal standards or by engineered valves and actuators based on specifications of engineering companies or end users and then customized according to meet the most stringent specifications.
Production is truly MADE-IN-ITALY and every product is designed, manufactured, assembled and tested in our 4 group production plants in the Northern Italy where you are welcome any time to know more about OMAL and breathe our EMPOWERED PERFORMANCE.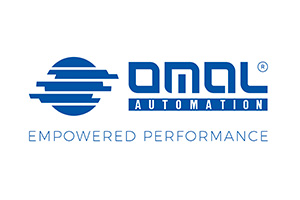 Visit our website: www.omal.com