Since its foundation on 1976, Starline has been focus only on production of ball Valves in forged materials.
After more than 40 years the imprinting philosophy is still present and the base for the Company growth and success.
Starting from the experience on the floating valves during the years, Starline has developed a wide and complete range of ball valves in different materials and executions introducing Trunnion Mounted design, Single and Double Block and Bleed, Metal to Metal, Cryogenic and High temperature design.
Today Starline with a production capacity of 200.000 valves per year, a complete size range and pressure ratings ½" to 36" – class 150- 2500lbs, API6A rate 3000-15000PSI in all the possible configurations and materials, is considered both by Customers and other Valve Manufacturers one of the Worldwide Market Leaders in Upstream Oil & Gas Applications which represent more than 70% of the final products destination.
Starline today is qualified by the most important end users of the Oil & Gas worldwide and recognized as a reliable partner and quality manufacturer.
Starline's philosophy is based on the achievement of the standardization of the highest quality requirements in each single product. All materials used are produced in Western Europe and all forging companies are located in Italy. A product fully made in Italy.
Today's plants are increasingly highly technological and require ever more efficient and safe systems, in this scenario Starline has decided to support the customers in the study and development of its requests in order to be able to produce and supply the Final Complete Automated Unit.
Starline is able to provide any kind of actuated ball valves starting from the customer requirement using the most suitable components according to needs (complete system with rack & pinion actuators, scotch & yoke actuators, compact actuators, SOV, AFR, POV, QQEV, positioner etc..). The final control system is built into a control panel designed and manufactured completely by Starline.
The complete system is tested in Starline facilities with a proper FAT according to Starline standards or customer specifications. Starline personnel is qualified to perform SIL certification on the complete unit.
Starline wants to be, today and in the future, the recognized leader in its industry, marketing and manufacturing of quality forged steel ball valves to satisfy our customer's expectations. Not only a product but a complete service.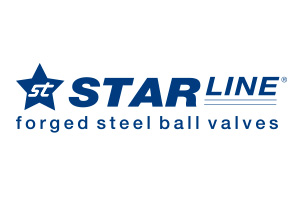 Visit us to https://www.starline.it/